1. Sir Richard Branson, The Founder Of The Virgin Group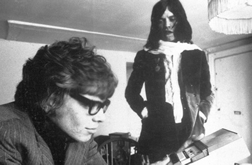 Business tycoon, Sir Richard Nicholas Branson (born 18 July 1950) is one of those entrepreneurs whom the world looks up to. In 1999, he was knighted by Queen Elizabeth II for his relentless "services for entrepreneurship", as quoted in the UK Millennium New Year's Honour List. An incredible inspiration, Richard Branson is the sole owner of the Virgin Group of companies that has plenty of business concerns under its umbrella (on the picture: Richard Branson and Mick Jagger in the early 70's, (c) Virgin).
2. His Mother Knew He Would Be Successful In Life: 'He'll Become The Prime Minister Of England'
Born on July 18, 1950, in the small British town of Surrey, Branson's mother always had really high hopes for her son, often telling people he would become the prime minister of England. Well, to Mrs. Branson's delight, her son achieved what others could only wish for.
3. His First Business Venture? The Magazine 'Student'
Branson dropped out of school at the age of 15 and started a magazine by the name Student. This magazine was his first ever business venture (1968). Who knew things would soar for this young lad so much that he would become one of the most sought after personalities of the world.