Rihanna Facts – #100 Facts
Rihanna: Early Years
---
1. Robyn Rihanna Fenty (Born 1988)
Robyn Rihanna Fenty, popularly known as Rihanna, is a Barbados born, Grammy winning recording artist and actor.
Rihanna was born on February 20, 1988 in Saint Michealon the Caribbean Island, Barbados.
This twenty-five year old has made it in America with eight studio albums and four movies to her credit.
---
2. Grew Up in Bridgetown, Barbados
Rihanna Fenty grew up in a modest three bedroom Caribbean house in Bridgetown, Barbados.
Rihanna has two younger brothers, RorreyFenty and RajadFenty.
Rihanna also has a few half-siblings from her father's previous marriage.
Singing and music has been an integral part of Rihanna's life since she was a kid.
---
3. Rihanna's Parents
Rihanna's parents divorced when she was fourteen years old.
Her father, Ronald Fenty, is of Irish and Barbadian descent and is a warehouse supervisor.
Rihanna's mother, Monica Braithwaite, is a retired accountant of Guyanese descent.
Rihanna has said that she and her bothers is half Barbadian, otherwise they come from a long line of Guyanese family.
---
4. Cadet in a Sub-Military Program
As a child, Rihanna was an army cadet in the sub-military program in Barbados.
Would you be able to guess who was the drill sergeant in the program with Rihanna? It was the famous singer and songwriter Shontelle.
---
5. Father's Addiction and Abusive Behavior
Rihanna has had a difficult childhood, which started when she walked in on her father, Ronald, taking drugs in his bedroom.
Her father's addiction to drugs made her see the bitter side of life.
Ronald would also get abusive with Rihanna's mother, which left Rihanna jaded.
---
6. Sold Clothes on the Streets
Rihanna used to sell clothes on a street stand and sometimes the back of their car, with her father when she was a teenager.
She would sell hats, scarves and even candy to make a little money from home.
Would you believe that, now, Rihanna has her own clothing line in America?
---
7. Parent's Divorce
Rihanna's parents divorced when Rihanna was fourteen years old because of her father's addiction.
The divorce came around the same time when her family was facing financial problems and Rihanna was forced to sell clothes on the streets just like her father.
---
8. Negative Impact of Divorce
The divorce of Rihanna's parents affected her trust in men, said the young artist in an interview with Oprah Winfrey.
She recalled that whenever she started to get close with a man, she would be so afraid of loving that she would run away from the relationship.
---
9. Rihanna's Dad Left Addiction after a Scene on The Streets
Rihanna's father, Ronald Fenty says he had to stop taking drugs after he heard a comment his ex-wife made regarding his future.
He says they were walking down a street with young Rihanna and saw an addict sleeping on the sidewalk, upon which Rihanna's mother said to her daughter, "Your dad is going to end up like that."
The incident was a revelation for Ronald.
---
10. Severe Headaches as a Child
Perhaps Rihanna's childhood was too troublesome for her because she often suffered from severe headaches as a child.
At one point, the headaches were so severe that doctors suspected she might have a brain tumor.
Fortunately, she did not have a brain tumor.
She once said in an interview that her headaches haunted her for long hours but she would hide them from her friends at school.
---
11. Aladdin's "A Whole New World"
Rihanna's father, Ronald Fenty says when Rihanna was seven years old she started singing Aladdin's "A Whole New World".
It brought tears to his eyes and made him realize that his young daughter can truly sing.
From there on, Rihanna found a more diverse sound in the music of Mariah Carey, Destiny's Child and Spice Girls.
---
Education of Rihanna
---
12. Rihanna's Schooling
Rihanna went to Charles F. Broome Memorial Primary School for her basic education and then transferred to the Combermere High School, which is one of the leading schools in Barbados coming in at three on high school rankings.
However, Rihanna met Evan Rogers at age fifteen, kick-starting her musical career and hence, she never finished high school.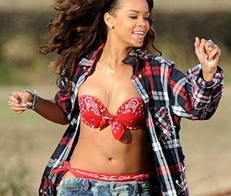 ---
13. Wins a Beauty Pageant
This Caribbean beauty is not just blessed with a beautiful voice but she has a beautiful face as well.
At her high school, Rihanna won a beauty pageant.
The young singer later recalled that the other girls were "jealous" of her win.
In America, Rihanna is considered one of the sexiest women of her age.
---
14. Winning a Singing Competition
Rihanna's high school offered music courses and encouraged the musical talent by hosting music competitions.
Rihanna sang Mariah Carey's Hero at one such competition and went on to become a winner.
From selling clothes on the streets, to winning a singing competition, Rihanna's success had just started.
---
Musical Talent of Rihanna
---
15. Recording Artist, Actress and Fashion Designer
Robyn RiihannaFenty has sold millions of records around the world, toured for her eight studio albums and has made it to Hollywood with four movies to her credit.
This rising star has come a long way from a modest three-bedroom house in Barbados to a seven-bedroom mansion in California worth $12 million.
At age twenty-five, the young star has six Grammys to her name and a long career ahead of her.
---
16. Mezzo-Soprano
Rihanna's voice is often classified under Mezzo Soprano, which means her vocal range is very diverse, lying between the soprano and the contralto.
In Opera, MezzoSoprano voices are often given the role of Julius Ceaser, Angelina, Rosina and other such lead roles.
---
17. Rihanna's Girl Band
Did you know that Rihanna had formed a girl band with two of her friends? In fact, when she auditioned for producer, Evan Rogers, she sang along her two friends but the producer says that the minute Rihanna walked in to sing, it was like "the other girls did not exist."
That is how good Rihanna was!
---
18. Big Break: Sang for Producer on Vacation in Barbados
The producer, Evan Rogers, who has also produced songs for Christina Aguilera, was on vacation in Barbados when fifteen-year-old Rihanna sang for him on one of her friend's suggestion.
Rihanna sang Mariah Carey's Hero and Emotions by Destiny's Child for the producer, who then flew her to America to record demos.
---
Beginning of The Career of Rihanna
---
19. Flew to America to Sing for Jay-Z
Producer Evan Rogers had Rihanna record demos for record labels.
From 2003 to 2005, Rihanna recorded demos, flying to New York quite frequently.
In 2005, Jay-Z, the CEO of Def Jam Records, and L. A. Reid auditioned Rihanna and later signed up the young star initiating her career.
---
20. Star Struck at Jay-Z audition
At her audition with Jay-Z, Rihanna was star struck.
The young star says the entire time she was thinking, "Oh God, he's right there, I can't look, I can't look, I can't look!' I remember being extremely quiet.
I was very shy.
I was cold the entire time.
I had butterflies.
I'm sitting across Jay-Z. Like, Jay-Z.
I was star-struck."
---
21. Six Album Record Deal
When Def Jam Records signed Rihanna in 2005, she was signed for a six album record deal.
However, Rihanna is still signed to the record label and the singer has released eight studio albums with great success.
Collectively, she has sold over 150 million records worldwide with 8.7 million albums in America alone.
---
22. Jay-Z on Rihanna
As the CEO of Def Jam Records, Jay-Z was in awe of Rihanna's voice and we know that he signed her on the spot.
All other scheduled meetings with other record labels were cancelled instantly.
Jay-Z says the only way he was letting Rihanna leave was through the window, joking with reference to the Godfather movie.
---
23. Pon De Replay
Rihanna's first single, Pon De Replay, made it to number 2 on the Billboard Hot 100 chart coming in second only to Rihanna's idol, Mariah Carrey's song, We Belong Together.
The song and its video were released in 2005.
It managed to reach the top 10 charts in countries such as Australia, Ireland, Italy, Hungary, Denmark and Belgium.
---
24. Summer Song of 2005
You really make it into America's Music industry when your first single "Pon De Replay" makes it on the Billboard Hot 100 songs and it is declared the summer song of 2005.
In the video for "Pon De Replay", Rihanna and her friends are seen dancing to music requesting the DJ to replay their favorite songs.
---
25. Rihanna Can Play the Piano and Guitar
Rihanna did not graduate from high school nor did she get any official training to play music but out of personal interest, she learned to play the guitar and a piano.
You will often see her play these instruments at her concerts.
---
Musical Achievements of Rihanna
---
26. First Number 1 Hit
The song S.O.S was released a few days before Rihanna's birthday on Valentine's Day.
For three weeks straight S.O.S remained on the Billboard Hot 100 Chart as the number 1 song.
The song has been certified platinum by RIAA for sales over 1,000,000 copies in the first year alone.
The song is classified under R&B and dance music.
---
27. Umbrella Number 1 for 10 Weeks on UK Charts
Did you know that Rihanna's much covered song "Umbrella –ella –ella" ran for a good ten weeks on the UK Charts at number 1? On the eleventh week, it fell down to number three.
However, this ten-week run broke a 55-year-old record on the British charts, which was previously held by Al Martino and his song, "Here in My Heart" in 1952.
---
28. "Unfaithful"
Rihanna wrote her song Unfaithful based on a relationship she had as a fourteen-year-old young girl in Barbados.
The song is from her second studio album titled the A Girl Like Me, released in 2006.
The song managed to reach the top ten charts in 19 countries and made it to number six on the Billboard Hot 100 singles.
---
29. Please Don't Stop the Music
The widely popular song from Rihanna's 2007 album Good Girl Gone Bad, Please Don't Stop the Music is one of the top songs in history.
The song features the line, "Mama-say, mama-sa, ma-ma-ko-ssa" from the popular Michael Jackson 1983 song "Wanna Be Start in' Something".
The song has been covered by the American Idol Season 7 Tour artists.
---
30. Collaboration with Eminem
In 2010, Rihanna collaborated with Eminem for the second single off his album, "Recovery".
The song was called "Love the Way You Lie" and said to have echoed the pair's experiences with domestic violence.
The video for the song featured Megan Fox and Dominic Monaghan, fighting in a burning house.
The single sold over 9.3 million copies worldwide and was rated one of the best works by Eminem.
---
31. Ruling the Charts in Shortest Time
Rihanna Fenty has ruled the charts in just seven and a half years.
Rihanna has 20 singles on the Top 10 charts, setting the record for the highest number of singles in the Top 10 in the shortest amount of time.
The charting singles include "Please Don't Stop the Music", "Love the Way You Lie", "Pon De Replay", "Only Girl (in the world)" and "Diamonds".
---
Rihanna collaborated with many artists for her fifth studio album, Loud, including a remix song called "S&M" with Britney Spears.
The song made it to number two on the Billboard Hot 100 and later, the duo performed the song on the 2011 Billboard Music Awards.
The song was certified triple platinum by the RIAA in 2013.
---
33. The Digital Download Queen
Rihanna has been named the digital queen due to the many online sales of her singles since she started her career in 2005.
The young artist has sold over 47 million tracks online as of 2011.
Her single "Umbrella" sold 2.7 million copies in America alone while"We Found Love" sold 4 million copies.
---
34. Net Worth of $53 Million
According to Forbes.com, Rihanna's eight albums and three released movies have earned her a fortune worth $53 Million.
She is currently on Forbes Most Powerful Celebrities at Number 4, coming in behind Jennifer Lopez, Oprah Winfrey and Justin Bieber with a Social Rank of Number 2.
---
35. Made a Fortune worth $15 Million in 2008
With her "Good Girl Gone Bad" album and the "Glow in the Dark Tour", Rihanna collected a fortune of $15 million, according to Forbes.
The major selling singles from the album were "Please Don't Stop the Music", "Shut Up and Drive" and "Hate That I Love You".
However, the album's lead single "Umbrella" was the gold from the album with over six million sales in the U.S. alone.
---
36. Princess of China
In 2012, Rihanna collaborated with the British rock band, Coldplay for their single, Princess of China from the album MyloXyloto.
The song made it to number 20 on the Billboard Hot 100 singles chart and sold over 100,000 singles online.
The video for the song was shot in Los Angeles and it featured Rihanna along with Coldplay's lead singer Chris Martin.
---
37. We Found Love (In a Hopeless Place)
Did you know that Rihanna used to admire the great Whitney Houston as a kid? Well, in 2011, the singer tied with her role model on the Billboard Hot 100 chart with her single We Found Love.
Whitney Houston and Rihanna tied in at number 3 coming behind Madonna and Mariah Carrey (who are also role models for young Rihanna).
The single has sold over 6 million copies worldwide.
---
38. Sixth Number 1 Single in America
The single "Rude Boy" from Rihanna's album Rated R was the sixth number one single in America.
The single stayed at number one for five consecutive weeks.
The single cover featured a seemingly nude Rihanna wearing only a hat and boots with a signboard covering her body and the words "Rude Boy" written on it.
---
39. Rihanna's Influences
Rihanna has been looking up to superstars Madonna, Bob Marley, Mariah Carey, Beyonce Knowles from Destiny's Child and Alicia Keys.
Rihanna's music comes under hip-hop, R&B, dancehall, reggae and pop.
Songs from Mariah Carey's albums and Beyonce Knowles' albums have been Rihanna's favorite to perform.
---
40. Hot Digital Singles Chart
In America, Billboard.com publishes the bestselling digital singles and albums, which are tracked by NeilsenSoundScan.
In 2010, the Rihanna and Eminem collaboration song, "Love the Way You Lie" stayed on number one for seven consecutive weeks.
Rihanna has had the most number ones on this chart with 12 number one digital singles.
She was named Hot Digital Songs Artist of the 2000s Decade.
---
41. 5X Platinum Album, Loud
Rihanna's album LOUD has been certified five times platinum in America as of 2011.
The British Phonographic Industry certified the album platinum six times in 2011.
It also became the highest selling R&B album in the UK.
The popularly accepted album featured the songs "Only Girl", "Complicated", "Love the Way You Lie Part II".
The X Factor judge, L. A. Reid, produced the album.
---
42. Rihanna and AvrilLavigne
In 2010, Rihanna recorded the song "Cheers (Drink to That)" which was written by AvrilLavigne among other writers.
In the video for the song, you also see AvrilLavigne with her signature skateboard moves.
AvrilLavigne's song "I'm With You" from the album "Let Go" has been added to the Rihanna song.
Avril said she was very excited when Rihanna was considering her song for interpolation project.
---
Rihanna Awards and Accolades
---
43. Six Grammys
As of 2013, Rihanna has been nominated for the Grammys 21 times, of which Rihanna has won six Grammys.
Her first Grammy was for Umbrella for Best Rap/Sung Collaboration that featured Jay-Z.
Her next two Grammys were shared with Jay-Z and Kanye West for "Run This Town".
The third Grammy was for Best Dance Recording for "Only Girl (In the World)".
In 2012, Rihanna won her fifth Grammy and shared it with Kanye West for the song, "All of the Lights".
Her latest Grammy win was in 2013, for the video of the song, "We Found Love".
---
44. Barbados Music Awards
Rihanna has received much appreciation from her home country.
She has been nominated for the Barbados Music Awards forty nine times, of which Rihanna has won 33 awards.
These 33 wins include Album of the Year, Entertainer of the Year, Best Dance Single, Song of the Year, Best music Video, People's Choice Entertainer of the Year, Best Collaboration and Entertainer of the Decade.
---
45. Rihanna's AMA Wins
Rihanna has won six American Music Awards, including the recent Favorite Soul/R&B Female Artist in 2012.
The young singer has won the title three more times previously.
One of her wins included an AMA for Best Soul/R&B Artist.
---
46. Two Brit Awards
Rihanna has won the same title for two consecutive years at the Brit Awards, first in the year 2011 and then in the year 2012.
The Award for both years was an International Female Artist.
Rihanna has received nominations in this category for the Brit Awards since 2008.
In 2013, Rihanna's song "Princess of China" was also nominated for British Single of the Year.
---
47. 18 Billboard Music Awards
Rihanna has won a collective 18 Billboard Music Awards.
Her collection of 18 awards includes the titles of Female Artist of the Year, Top Female Artist, and European 100 Song of the Year, Pop 100 Artist of the Year, Top Radio Songs Artist, Top Rap Song and Top Canadian Artist of the Year.
---
48. Rihanna's Four 4X Platinum Singles
Overall, Rihanna has had 27 platinum selling singles of which, four singles have been certified 4X platinum by RIAA including Umbrella, We Found Love, Disturbia and Live Your Life.
As of 2013, her single, Love the Way You Lie, featuring Eminem, has been certified 5X Platinum.
Other than these, Run This Town, S&M, Please Don't Stop The Music and Only Girl (in the World) have been certified 3X platinum.
---
49. Rihanna Day in Barbados
In 2008, February 20, Rihanna's birthday, was officially named Rihanna Day due to the young singer's success around the world.
The day was launched by the Prime Minister of Barbados, David Thompson, in 2008.
The young singer flew back home that year for her birthday only to be surprised and honored by the announcement.
---
Rihanna: Personal Life
---
50. Abuse Incident With Chris Brown
In 2009, the stories were published of Chris Brown and Rihanna all across the tabloids with the photos of the latter, in which she appeared bruised and injured.
The incident happened at a Pre-Grammys party while both artists were scheduled to perform at the Grammys event but cancelled soon after the incident.
Chris Brown was later arrested for domestic violence.
---
51. On Domestic Violence
The incident with Chris Brown happened in a car before an awards show and Rihanna was left with bruises on her face and body.
Chris Brown was put on probation for five years and it was given community service for six months but Rihanna said in an interview that if it can happen to her, it can happen to anyone.
---
52. Making Peace with Father's Abuse
Soon after Rihanna's pictures went public with bruises, Chris Brown's image changed drastically.
Along with facing the issue personally, Rihanna had to deal with it publicly as well.
Rihanna told Oprah Winfrey in an interview that she had to make peace with her abusive father and her haunting past to muster up the courage to forgive Chris Brown.
---
53. Love for Father
Despite the difficult relationship that Rihanna had with her father, she says that he is the best father in the world.
Rihanna recalls that he always gave her space and let her learn from her mistakes.
She told Oprah, "As awful as he was with my mom at times, it didn't compare to how great he was as a father."
---
54. Dedicated Grammy to Father
After the Chris Brown incident, Rihanna won her very first Grammy.
Meanwhile, she was not on speaking terms with her father due to the past the father and daughter had shared.
However, when Rihanna won her first Grammy for a music video, she dedicated the award to her father, Ronald, saying that she has found success because he always let her be herself.
---
55. Forgives Chris Brown
Rihanna mustered up the courage and forgave Chris Brown for his mistakes.
In an interview with Oprah Winfrey in 2012, Rihanna explained that she had to forgive him because she cared about him.
Chris Brown had pleaded guilty in court, done his community service and Rihanna believes that was enough punishment for him.
---
56. Smoking and Drinking
Rihanna is well known for her smoking and drinking habits.
Doctors have frequently warned the 25 year old to change her lifestyle to avoid major sickness.
It seems like Rihanna might have to give up smoking and drinking as well, to save her voice just like the British superstar, Adele.
---
57. Chris Brown and Drake Fight over Rihanna
Chris Brown and Drake reportedly had a fight over Rihanna and later ended up suing each other over the incident.
In 2012, Chris Brown tweeted a picture of his injured chin after he had a bar fight with the latter.
The rapper, Drake, has recently released songs taunting Chris Brown and his relationship with Rihanna.
---
Katy Perry is said to be very good friends with Rihanna.
She visited Rihanna in the Caribbean soon after Katy Perry's divorce with Russell Brand.
The two of them are often seen together at concerts and award shows.
However, recently rumors of the BFFs feud over Chris Brown have been running around.
---
59. Beverly Hills Lawsuit
In 2009, Rihanna bought a mansion in Beverly Hills for $6.9 million, which started to break down after the first major rainstorm.
The young star lawyer-ed up very quickly and sued the real estate agent for serious structural defects in her Beverly Hills mansion.
Rihanna's lawsuit claimed the damages had made the house "inhabitable".
---
60. Death of Grandmother
In 2012, Rihanna's grandmother passed away in a New York City hospital where she was being treated for cancer.
Rihanna had a memorial service for her grandmother, Dolly, in New York while she was buried in Barbados.
The singer tried to restrain tears but eventually tweeted a picture of her after the funeral in which she appeared crying with a beer bottle in hand.
---
61. Rihanna's Best Friends
Rihanna's best friends are from her hometown Barbados and the two girls, Leandra and Melissa accompany Rihanna to parties and sometimes even Vegas.
In 2011, when Leandra's father passed away, Rihanna flew from the UK to Barbados with her mother, Monica, when she was in the middle of a tour to be with her best friend.
---
Personal Interests of Rihanna
---
62. Rihanna Loves the Spice Girls
Rihanna's favorite member of the Spice Girls, the British girl band, which recently re-united to perform at the 2012 Olympics, is Melanie Brown, also known as Scary Spice.
Rihanna's favorite Spice Girls song, however, is the 1992'sWannabe.
The Spice Girls' worldwide hit has over 143 million views on YouTube.
---
63. Rihanna's Pet Turtles
Although Rihanna misses the culture and her friends back in Barbados, what she misses the most are her turtle pets.
The two turtles live back at her Barbados home with her family.
One of them has been around since Rihanna was eleven years old.
---
64. Prankster Rihanna
Rihanna said in an interview that she pulled a prank on her best friend's sister.
Rihanna says, "Me and my best friend called her big sister to fool her that she was pregnant – not cute.
There were real tears being cried on the other phone, real panic, real anxiety attacks, it was funny in the end but at the moment we were like did we go too far?!"
---
Rihanna: A Style Icon
---
65. Known for Her Ravishing Red Hair and Leather Pants
The media and paparazzi have been tracking Rihanna for her admirable fashion sense.
Even though her hairstyles keep changing (her most recent hairstyle is the half-shaven head), she is most popularly recognized for her flaming red and perfectly permed hair.
She is also known for wearing skin tight leather pants and often, short leather dresses at her concerts.
---
66. Nike Endorsement Deal
When Rihanna was just 17 years old, she signed a $20 million deal to endorse Nike's Women Wear around the world.
The deal included online promotion and a television commercial.
Prior to Rihanna, all endorsers for the company have been professional athletes.
In the same year, Rihanna was also endorsing clothing line for J. C. Penny.
---
67. Rihanna's Most Expensive Fashion Item
The young superstar loves to shop and she recently told Metro, UK that the most expensive item she has bought is the $6000 Chanel python bag in 2007.
The young star says she loves to take it everywhere with her.
---
68. Vogue Cover Girl
Rihanna has been on the cover of Vogue magazine two times.
The very first time, she appeared on the April 2011 issue with flaming red hair and the second time, she made it on the November 2012 issue with pixie-cut black hair.
The second issue reportedly did not sell well.
Many reported that Adele's cover sold twice as much as Rihanna's November cover of Vogue Magazine.
---
69. Rihanna, Not the New Face of Chanel
Ever since the young star's movie success, rumors has had it that Rihanna will be the new face of the billion-dollar company, Chanel.
However, Vouge.com recently confirmed that the young star would not be endorsing the brand.
They reported that the news of her Chanel photo-shoot is false, according to the Chanel spokesperson.
---
70. Gucci Brand Ambassador for 2008
The young artist was made the ambassador for Gucci in 2008.
As part of Rihanna's charity work, Gucci's Tattoo Heart Collection was sold to benefit UNICEF.
Every sale from the collection contributed 25% to support UNICEF programs for orphans and children affected by HIV AIDS in Africa.
---
71. Rihanna on Her Looks
Rihanna has been quoted saying, "Over the holidays, and even during filming, I realized that I actually like my body, even if it's not perfect according to the book.
I just feel sexy. For the first time, I don't want to get rid of the curves.
I just want to tone it up.
My body is comfortable, and it's not unhealthy, so I'm going to rock with it."
---
72. Ever Changing Hairstyles
Rihanna has reportedly had over 150 hairstyles during her career.
In 2011, Rihanna went back to her natural hair color of brown stating that she was out of hair color ideas.
The young star loves to change her look and always tries her best to look unique because she never wants to "mimic" other artists.
Rihanna is best admired for her flaming red hair and her ash brown straight hair.
---
73. Rihanna's Tattoos
Rihanna has many tattoos on her body, including a peace sign behind her right ear, representing her Zodiac sign.
Other tattoos include a prayer on her hip in Sanskrit, an Arabic phrase on her ribs, a musical note on her ankle, a skull tattoo on the back of her foot, the word "love" on her finger and numerous others around her body.
---
74. Esquire Magazine's Sexiest Woman
In 2011, Rihanna graced the cover of Esquire Magazine as the Sexiest Woman of the Year.
When Oprah Winfrey asked her what she thought about the title in one interview, the young star smiled and said that she thought it was "cute" that people think she is sexy.
---
75. Modeled for Armani Jeans
In 2012, Rihanna modeled for the major multimillion-dollar fashion house Armani.
The commercial video for the Armani Jeans with Rihannain it, featured Madd Swans and the song Robbing and Cheating.
She was the spokesperson for Emporio Armani Underwear and Armani Jeans.
---
76. Barbados Crop over Festival
Rihanna traveled to Barbados in 2011 for the annual Barbados Crop over Festival to participate as a dancer.
She dressed up in a traditional Barbadian dress that looked much like Linda's blue dress from the cartoon movie "Rio, except that Rihanna was wearing orange.
Rihanna's dance video from the festival is a much-watched video of 2011.
---
Inspirational
---
77. The Believe Foundation
In 2006, Rihanna founded the Believe Foundation that largely supports awareness of leukemia in children and provides over 10,000 bone marrow transplants every year.
The foundation website states Rihanna's belief in protecting the world's future by "ensuring health and well-being" of the future leaders.
The foundation is committed to provide children with tools to believe in their future.
---
78. Rihanna Believes in Karma
Rihanna said in an interview that she strongly believes in good karma and bad karma.
She says, "You do things sometimes without realizing it's bad until it comes back . . .I've experienced it" and that it forms the philosophy of her life.
---
79. Rihanna on Dancing
Rihanna loves to dance, she once said, "Dancing was always part of my culture growing up in Barbados.
When I shot my 1st video I worked really hard with my choreographer to perfect the routines."
---
80. What If Music Had Not Worked Out?
Rihanna says when she found her big break; she never looked back at home and flew to New York to start her career, something she has always wanted to do.
However, she has been asked multiple times by reporters, what she would have been doing had signing not worked out.
Rihanna says either she would have studied Psychology or she would have become a pilot.
---
Assets of Rihanna
---
81. 12 Million Dollar Mansion
In late 2012, Rihanna bought herself a new mansion in Pacific Palisades in Los Angeles.
The 11,000 square foot house features seven bedrooms.
It also has a massive swimming pool and luxury interior with a 6000 square foot backyard.
Rihanna is known for her wild parties and she will be throwing many more at her new mansion.
---
82. Five Bedroom House for Mom
Rihanna flew her mother, Monica, to Barbados and surprised her with a five-bedroom mansion for Monica and Rihanna's brothers.
The surprise was shown on Oprah's OWN network.
Rihanna's mother thought she was going in the house for an interview with Oprah but broke down in tears when her daughter gave her the key to the house.
---
83. Rihanna's Legs are insured for $1 Million
The twenty-five year old singer has her legs insured by Gillette for $1 Million.
Rihanna once told People Magazine that she works with her trainer to tone her butt and legs.
She said that she is "obsessed" with her legs.
The young star has also won the title "Legs of a Goddess" from the popular brand, Venus Breeze.
---
84. Def Jam Records gift Rihanna a Porsche
The young star has done wonders for Jay-Z 's record label, Def Jam Records.
As a reward for the extra money Rihanna helped bring the company, she was gifted a Porsche 911 Turbo S as a Christmas gift from the record label.
The car was delivered to the young star with a massive black bow tied to it.
The car is worth $172,000.
---
85. Rihanna Sued Personal Accountants
In 2012, Rihanna sued her personal accountants for taking 22 percent from her Last Girl on Earth Tour while the singer only received 6 percent.
The accountants were hired when Rihanna was sixteen years old and had moved to America to launch her music career.
The former accountants were sued for millions of dollars.
---
Rihanna facts
---
86. Collaboration with Chris Brown
For the album Talk That Talk, Rihanna collaborated with boyfriend, Chris Brown to write the song Birthday Cake.
The single was released in 2011 for the young star's birthday on February 20.
The song was received with mixed reviews and sold only a little over 6000 digital copies.
---
87. Rihanna's SNL Performance
Rihanna performed on Saturday Night Live in 2012 to promote her album Unapologetic.
Not only did she perform her hit single Diamonds at the show; she also introduced a new song called Stay.
The song Stay is rumored to have been written about her roller coaster relationship with Chris Brown.
---
88. Time 100 Most Influential People
In 2012, at the mere age of 24, Rihanna made it on Time Magazine's 100 Most Influential People List.
The magazine feature said about the young star, "This is the beginning for Rihanna — she has so much more to do and to give.
She is just getting going, so watch out.
She's the Barbados ambassador for youth and culture, and she's coming to a town near you."
---
89. Accompanies Chris Brown to Court
In 2013, the couple is going strong.
Rihanna was on the cover of Rolling Stone to declare that she wants to be happy even if she later realizes that getting back together with Chris Brown was a mistake.
She declares that the two of them love each other and probably will.
In 2013, Rihanna accompanied Chris Brown to his court date for his probation period.
---
90. 2013 Concert Dates Cancelled
Amid all the media attention and trouble in her personal life, Rihanna has cancelled a few shows on her sold-out Diamonds world tour.
Rihanna's management has given "undisclosed sickness" as the reason for canceling the tour dates.
Some reports have said that Rihanna is suffering from cold and Laryngitis.
---
91. Latest Film Venture
Rihanna's latest film venture, Happy Smekday is set to release in the second quarter of 2014.
Tim Johnson movie is a 3D animated alien story based on the book "The True Meaning of Smekday" by Adam Rex.
Rihanna is set to play one of the lead roles from the bookco-starring with Jim Parsons.
---
92. Swat Team Invasion of Rihanna's Home
Rihanna's Pacific Palisades home was invaded by the Swat Team in April 2013, after a prank call was made to 911.
TMZ reported that the 911 caller alleged that two armed men had shot a person at a Pacific Palisades home.
Many celebrities have fallen victim to this swatting prank over the years.
---
93. 1.2 Billion YouTube Views
On Rihanna's YouTube Vevo Channel, her songs and videos have achieved a collective 3 billion views and 7 million subscribers making her one of the most popular young stars in YouTube history.
The video for S&M, featuring Britney Spears has over 42 million views.
Her video for Diamonds has 259 million views and We Found Love has 252 million views, as of 2013.
---
94. Controversial Video for S&M
The song S&M, short for Sex and Money, from Rihanna's album Loud featured the legendary Britney Spears.
The song has been criticized for its provocative lyrics but it was the video, featuring Rihanna, which created the real controversy around the world.
The video directed by Melina Matsoukas was banned in eleven countries for excessive sexual content.
---
95. Party for Katy Perry
In 2010, Rihanna threw a bachelorette party for best friend, Katy Perry when she was to wed the British comedian and actor Russell Brand.
The young star is known for her fun parties and so she took Katy Perry and her friends to Las Vegas for the party at the MGM Grand Hotel and Casino.
---
96. Rihanna's Songs for Movies
Many of Rihanna's songs have been used in movies including her very first single "Pon De Replay", which was used in the HBO TV Show Entourage for the episode "An Offer Refused", her song Disturbia was used for the movie 2007 "Disturbia" starring Shia LaBeouf and Carrie-Anne Moss.
---
97. Diamonds World Tour 2013
Rihanna is currently on her Diamonds World Tour for the promotion of the album "Unapologetic".
The name of the tour comes from the song Diamonds that has the lyrics "Shine Like A Diamond".
The photo on the tour posters shows Rihanna with a bob cut and she appears to be wearing no clothes in the photo.
---
98. Instagrams Pictures of Herself Smoking Pot
Rihanna has posted a few pictures of herself in 2013 on Instagram in which she appears to be smoking pot.
Going with the theme of her current album, Rihanna has been very unapologetic about her erratic behavior.
She has asked the public through various interviews to leave her alone.
---
99. What's My Name
Rihanna's song "What's My Name" has been turned into parodies around the world.
The song from Rihanna's fifth studio album made it to number within the first on the American charts as well as the British charts.
The rapper Drake featured on the song with Rihanna.
The young star had her signature red hair in the video for the song.
---
100. 90 Million Followers (and counting) on Twitter
The superstar and twenty-five year old singer, Rihanna, has over 90 million followers on her Twitter page.
Rihanna tweets pictures of herself and her fans.
She also frequently replies to fan questions.